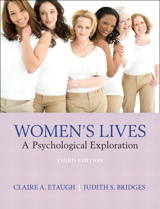 Description
Women's Lives: A Psychological Exploration, 3/e, is the only psychology of women textbook that embeds a chronological approach within each topical chapter. This cutting-edge and comprehensive third edition integrates current scientific and social developments on women differing in age, ethnicity, social class, nationality, sexual orientation, and ableness.
In this edition, the latest scholarship on the multifaceted lives of girls and women is presented in an accessible, engaging style, with numerous student activities designed to promote critical thinking and research participation, and a new feature on social activism.
Table of Contents
Introduction to the Psychology of Women: History and Research
Cultural Representations of Gender
Gender Self-Concept and Gender Attitudes: Developmental Processes and Individual Differences
Infancy, Childhood, and Adolescence
Gender Comparisons: Social Behavior, Personality, Communication, and Cognition
Sexuality
Reproductive System and Childbearing
Relationships
Education and Achievement
Employment
Balancing Family and Work
Physical Health
Mental Health
Violence Against Girls and Women
A Feminist Future: Goals, Actions and Attitudes
Purchase Info ?
With CourseSmart eTextbooks and eResources, you save up to 60% off the price of new print textbooks, and can switch between studying online or offline to suit your needs.
Once you have purchased your eTextbooks and added them to your CourseSmart bookshelf, you can access them anytime, anywhere.
Buy Access
Women's Lives: A Psychological Exploration, CourseSmart eTextbook, 3rd Edition
Format: Safari Book
$52.99 | ISBN-13: 978-0-205-90711-3