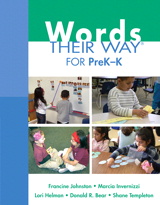 Description
Words Their Way® with PreK-K is a hands-on, developmentally-driven approach to word study that illustrates how to integrate and teach phonics, vocabulary, and spelling skills to the youngest readers. Why word study with PreK and kindergarten students? Because the hands-on approach motivates them, keeps them engaged, and helps them built literacy skills. The word study approach as outlined by renowned Words Their Way® authors is a developmentally-driven instructional method. It has always been extremely popular for this developmental approach, as well as its concrete methods for teaching children phonics, vocabulary, and spelling skills.
Table of Contents
Contents in Brief
Chapter 1: Oral Language, Vocabulary and Concept Development
Chapter 2: Alphabet– Letter Recognition and Production
Chapter 3: Phonological Awareness
Chapter 4: Concepts about Print and Writing
Chapter 5: Word Study for Phonics and Spelling
Chapter 6: Concept of Word in Text
Chapter 7: Classroom Organization in PreK and Kindergarten Settings Appendix
Print
Add to Cart
$29.99 $23.99 | ISBN-13: 978-0-13-243016-6
Free Ground Shipping.