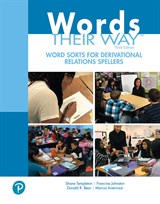 Description
For courses in Reading Methods (Supplementary) / Phonological Awareness and Phonics

The ideal stage-specific companion to Words Their Way: Word Study for Phonics, Vocabulary, and Spelling Instruction.
In keeping with the authors' belief that the hands-on, word sorting approach to word study is invaluable to teachers and students alike, this volume presents prepared sorts and activities covering the full curriculum of word study for advanced readers and writers in the derivational relations stage of spelling development. Complete with 65 reproducible sorts, and dozens of other activities and assessments, this book provides all of the resources needed to engage in generative word study. Together, the Words Their Way core text and this supplement provide teachers with the knowledge and tools to meet the wide range of needs in today's classrooms.

The 3rd Edition includes enhanced step-by-step directions for each sort, generalizations for each lesson, questions to facilitate critical thinking, support for English learners, as well as weekly and unit assessments.

Table of Contents
Level 1: Basic Derivational Relations
Unit I: Suffixes and Prefixes
Unit II: Derivational Suffixes
Unit III: The Suffix -ion
Unit IV: Spelling-Meaning Patterns 1
Unit V: Latin and Greek Word Parts 1
Unit VI: Spelling-Meaning Patterns 2
Unit VII: Latin and Greek Word Parts 2
Unit VIII: Spelling-Meaning Patterns 3

Level 2: Advanced Derivational Relations
Unit IX: Latin and Greek Word Parts 3
Unit X: Latin and Greek Word Parts 4
Unit XI: Prefix Assimilation
Unit XII: Miscellaneous Sorts
This title is also sold in the various packages listed below. Before purchasing one of these packages, speak with your professor about which one will help you be successful in your course.
Package ISBN-13: 9780135219751
Includes this title packaged with:
Words Their Way Letter and Picture Sorts for Emergent Spellers, 3rd Edition
Donald R. Bear, Marcia Invernizzi, Francine Johnston, Shane Templeton
Words Their Way: Word Sorts for Within Word Pattern Spellers, 3rd Edition
Marcia Invernizzi, Francine Johnston, Donald R. Bear, Shane Templeton
Words Their Way: Word Sorts for Letter Name - Alphabetic Spellers, 3rd Edition
Francine Johnston, Marcia Invernizzi, Donald R. Bear, Shane Templeton
Words Their Way: Word Sorts for Syllables and Affixes Spellers, 3rd Edition
Francine Johnston, Marcia Invernizzi, Donald R. Bear, Shane Templeton
$141.50 $134.43 | Add to Cart