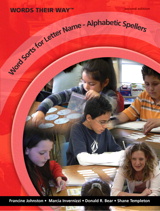 Description
We believe that the hands-on word sorting approach to word study is invaluable to you and your students. Broaden your word study understanding and instruction with this expanded word sorting tool for week by week implementation with Letter Name-Alphabetic spellers (Grades K - 3). This stage-specific companion volume to Words Their Way®: Word Study for Phonics, Vocabulary, and Spelling Instruction provides a complete curriculum of reproducible sorts and detailed directions for the teacher working with students in the letter name-alphabetic stage of spelling. NOTE: This ISBN is 3 hole punched
This second edition boasts
Literature Connections making links between features being studies and valuable children's literature
Targeted Learners sections that clarify which students will benefit most from the instruction
Spell Checks and other Assessments available more frequently throughout
High Frequency Words receive special attention
Responses from the field…
A strength of each chapter is the Notes for the Teacher section that introduces each set of sorts. This reminds teachers about developmental appropriateness and pacing variations based on learner needs. Clearly the gradual release of responsibility model of guided instruction is promoted and reinforced throughout the text.
Barbara Pettegrew, Otterbein College
Chapter layout is excellent. Format is designed to include anything that might be needed for the lesson, and each takes you step by step through the process being taught, allowing time for students to internalize and firm up the skills and strategies.
Susan K. McCloskey, California State University, Fresno
Meet the Authors
Francine Johnston is Associate Professor in the School of Education at the University of North Carolina at Greensboro, where she teaches reading, language arts, and children's literature. A former first-grade teacher and reading specialist.
Marcia Invernizzi is Director of the McGuffey Reading Center at the University of Virginia exploring developmental universals in non-English orthographies. A former English and reading teacher, Marcia works with children experiencing difficulties learning to read and write in intervention programs such as Virginia's Early Intervention Reading Initiative and Book Buddies
Donald Bear is Director of the E.L. Cord Foundation Center for Learning and Literacy at the University of Nevada, Reno, assessing and teaching students who experience difficulties learning to read and write. A former preschool and elementary teacher, Donald currently researches literacy development with a special interest in students who speak languages other than English, and he partners with schools and districts to consider assessment and literacy instruction.
Shane Templeton is Foundation Professor of Literacy Studies at the University of Nevada, Reno. A former classroom teacher at the primary and secondary levels, he researches the development of orthographic and vocabulary knowledge.
Table of Contents
Contents
Overview 1
SORTS for Early Letter name Alphabetic Spellers
SORTS 1—5
Review Sorts for Initial Consonants 3
Notes for the Teacher
Spell Check 1: Initial Consonants
SORTS 6—12
Same-Vowel Word Families with Pictures
Notes for the Teacher
Spell Check 2: Same-Vowel Word Families 27
SORTS 13—26
Digraphs and Blends Picture Sorts 29
Notes for the Teacher 29
Spell Check 3: Digraphs 35 and XX
Spell Check 4: Blends X and X SPELL CHECK 4
SORTS for Middle Letter Name Alphabetic Spellers
SORTS 27—33
Mixed-Vowel Word Families 51
Notes for the Teacher 51
Spell Check 4: Mixed-Vowel Word Families 55 and 63
SORTS 34—37
Picture Sorts for Short Vowels 65
Notes for the Teacher 73
SORTS for Late Letter Name Alphabetic Spellers
SORTS 38—47
Short Vowels in CVC Words 73
Notes for the Teacher 73
Spell Check 5: Short Vowels 80 and 92
SORTS 48—49
Introduction to R-Influenced Short Vowels 93
Notes for the Teacher 93
Spell Check 6: R-influenced short vowels XX
SORT 50
Contractions 97
Notes for the Teacher 97
Appendix 99