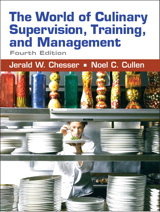 Description
For sophomore/senior-level undergraduate courses in Food and Beverage; courses in all culinary arts two- and four-year degree programs; training seminars for chefs; and certification programs for the American Culinary Federation Educational Institute.
The World of Culinary Supervision, Training, and Management, Fourth Edition gives aspiring chefs, sous chefs, chefs de cuisine, and executive chefs the necessary knowledge, skills, and attitudes required to lead, supervise and manage foodservice workers. In-depth, yet easily understood, it outlines in clear terms those elements crucial to success in today's quality driven foodservice industry—detailing the elements of supervision and total quality management. It examines all aspects of training as it affects the chef supervisor; and providing practical, step-by-step discussions on crucial management skills and functions involving a chef supervisor. This informational and educational training resource fulfills a need as chefs move from being culinarians to managers, supervisors, and trainers in the world of total quality management. It identifies those key areas that will lead qualified individuals into the chef positions of the future, and provides reasonable solutions to situations that typically evolve from them.
Table of Contents
I. THE CHEF AS SUPERVISOR
1. Supervision
2. The Chef Supervisor and Management Theories
3. Motivation, Morale, and Strokes
4. Building Teamwork in the Kitchen
5. Respect
6. The Chef as Communicator
7. The Chef as Leader
II. THE CHEF AS TRAINER
8. Quality and Training in the Kitchen
9. Preparing Training Objectives
10. Understanding Instructional Delivery
11. Training Methods
12. Training and Transactional Analysis
III. MANAGEMENT AND CHEF SUPERVISORS
13. Managing and Utilizing Time
14. Recruiting and Selecting Kitchen Team Members
15. Induction and Orientation Training
16. Team Performance Appraisal
17. Work Environment
18. Discipline and the Kitchen Team
19. Problem Solving and Decision Making
Appendix A: Federal Regulations and Executive Orders.
Appendix B: Glossary of Terms.
Appendix C: Bibliography
Purchase Info ?
With CourseSmart eTextbooks and eResources, you save up to 60% off the price of new print textbooks, and can switch between studying online or offline to suit your needs.
Once you have purchased your eTextbooks and added them to your CourseSmart bookshelf, you can access them anytime, anywhere.
Buy Access
World of Culinary Supervision, CourseSmart eTextbook, 4th Edition
Format: Safari Book
$46.80 | ISBN-13: 978-0-13-500624-5