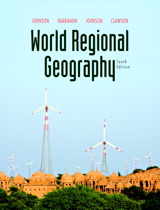 Description
For introductory courses in World Regional Geography.

Written by experts in their respective fields who are active in research, fieldwork, and teaching, this text teaches the character of the world's people, with a central theme of human development, for an issues-oriented overview of each region. An emphasis on subregions (places within regions) allows instructors to explore specific locales as they teach the themes of the course. CourseSmart textbooks do not include any media or print supplements that come packaged with the bound book.

Table of Contents
CHAPTER ONE
Basic Concepts and Ideas
Merrill L. Johnson, Douglas L. Johnson, Viola Haarmann
What Is Geography and Should We Care?
Geography and Development in an Era of Globalization
Nature, Society, and Development

CHAPTER TWO
The United States and Canada
Merrill L. Johnson
The Physical and Human Contexts for Development
The Geography of Economic Development
Challenges in a Developed Realm

CHAPTER THREE
Latin America and the Caribbean
David L. Clawson
Physical Diversity and Cultural Heritage
Mexico, Central America, and the Caribbean: Lands of Contrast
South America: Regions of Uneven Development

CHAPTER FOUR
Europe
Bella Bychkova-Jordan
The European Habitat
Culture, Society, Economy
Political Geography

CHAPTER FIVE
Northern Eurasia
Robert Argenbright
Physical Geography and Historical Context
The Geography of Their Political Economies

CHAPTER SIX
Central Asia and Afghanistan
William C. Rowe

CHAPTER SEVEN
The Middle East and North Africa
Douglas L. Johnson and Viola Haarmann
Physical and Cultural Environments
The Mediterranean Crescent: Maximizing Limited Resources
The Gulf States: Living on Oil

CHAPTER EIGHT
Africa South of the Sahara
Samuel Aryeetey-Attoh
Legacy of Continuity and Change
West, Central, and East Africa: Diversity in Development
Southern Africa: Development in Transition

CHAPTER NINE
South Asia
Christopher A. Airriess
A Physical and Human Overview
South Asia: India and Its Neighbors

CHAPTER TEN
East Asia
Christopher A. Airriess
Japan
China and Its Pacific Rim Neighbors

CHAPTER ELEVEN
Southeast Asia
Christopher A. Airriess

CHAPTER TWELVE
Australia, New Zealand, and the Pacific Islands
Simon Batterbury

Purchase Info ?
With CourseSmart eTextbooks and eResources, you save up to 60% off the price of new print textbooks, and can switch between studying online or offline to suit your needs.
Once you have purchased your eTextbooks and added them to your CourseSmart bookshelf, you can access them anytime, anywhere.
Buy Access
World Regional Geography, CourseSmart eTextbook, 10th Edition
Format: Safari Book
$77.99 | ISBN-13: 978-0-321-67261-2