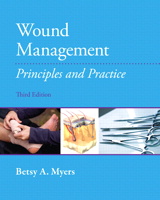 Description
For physical therapy education programs covering wound management; and for clinicians (including PT, PTA, OT, and nursing) involved in treating patients with — or at risk for — open wounds or lymphedema.
This is the most complete, up-to-date wound management learning resource for clinicians and students. It first reviews the basic science of wound care, including normal tissue anatomy, wound healing, and factors that adversely affect healing. Next, it covers examinations and interventions for patients with open wounds, including holistic patient management. It then focuses on specific wound types, including arterial and venous insufficiency ulcers, pressure ulcers, neuropathic ulcers, and burns. Pedagogical tools include: key terms, chapter objectives, tables, figures, photographs, checkpoint and review questions, extensive documentation practice, and detailed case studies. This edition is extensively updated for current research and practice, and adds new coverage of lymphedema and billing/documentation, as well as a new website containing many new learning resources.
Table of Contents
SECTION I. Basic Science
1. Integumentary Anatomy
2. Wound Healing
3. Factors Affecting Wound Healing
SECTION II. Wound Examination and Interventions
4. Examination of Patients with Open Wounds
5. Debridement
6. Management of Infection
7. Dressing Selection and Bandaging
8. Electrotherapeutic Modalities, Physical Agents, and Mechanical
9. Holistic Management of Patients with Wounds
SECTION III. Wound Types
10. Arterial Insufficiency Ulcers
11. Venous Insufficiency Ulcers
12. Pressure Ulcers
13. Neuropathic Ulcers
14. Burns
15. Lymphedema
16. Miscellaneous Wounds
17. Basic Dermatology
APPENDICES
Appendix A. Glossary
Appendix B. Case Studies
Appendix C. Answers to Checkpoint and Chapter Review Questions
Appendix D. Wound Care Billing and Coding Lam Le, MD, CWSP, FACHM, FAPWCA
Appendix E. Total Contact Casting Procedure and Patient Instructions
Appendix F. Internet Wound Care Resources
Purchase Info ?
With CourseSmart eTextbooks and eResources, you save up to 60% off the price of new print textbooks, and can switch between studying online or offline to suit your needs.
Once you have purchased your eTextbooks and added them to your CourseSmart bookshelf, you can access them anytime, anywhere.
Buy Access
Wound Management: Principles and Practices, CourseSmart eTextbook, 3rd Edition
Format: Safari Book
$42.99 | ISBN-13: 978-0-13-139525-1