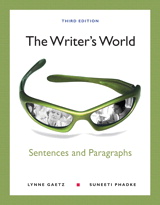 Description
The Writer's World series was written to address the diverse needs of today's students: students whose first language is not English, students who respond favorably to visuals, and students who have varying skill levels.
Table of Contents
Preface
PART I. THE WRITING PROCESS
Chapter 1: Exploring
Chapter 2: Developing
Chapter 3: Revising & Editing
Chapter 4: Paragraph Patterns
Chapter 5: Writing the Essay
PART II: EDITING HANDBOOK
Section 1: Some Parts of Speech
Chapter 6: Nouns, Determiners and Prepositions
Chapter 7: Pronouns
Section 2: Problems with Verbs
Chapter 8: Subjects and Verbs
Chapter 9: Present and past Tenses
Chapter 10: Past Participles
Chapter 11: Progressive Tenses
Chapter 12: Other Verb Forms
Section 3: Verb Agreement and Consistency
Chapter 13: Subject-Verb Agreement
Chapter 14: Tense Consistency
Section 4: Effective Sentences
Chapter 15: Compound Sentences
Chapter 16: Complex Sentences
Chapter 17: Sentence Variety
Section 5: Common Sentence Errors
Chapter 18: Fragments
Chapter 19: Run-Ons
Chapter 20: Faulty Parallel Structure
Section 6: Modifiers
Chapter 21: Adjectives & Adverbs
Chapter 22: Mistakes with Modifiers
Section 7: Word Use and Spelling
Chapter 23: Exact Language
Chapter 24: Spelling
Chapter 25: Commonly Confused Words
Section 8: Punctuation and Mechanics
Chapter 26: Comma Usage
Chapter 27: The Apostrophe
Chapter 28: Quotation Marks and Capitalization
Section 9: Editing
Chapter 29: Editing Practice
PART III: READING STRATEGIES AND SELECTIONS
Chapter 30: Reading Strategies and Reading Selections
Reading Strategies
Reading Selections
Purchase Info
ISBN-10: 0-205-78179-9
ISBN-13: 978-0-205-78179-9
Format: Alternate Binding
Digital Choices ?
MyLab & Mastering with Pearson eText is a complete digital substitute for a print value pack at a lower price.
MyLab & Mastering ?
MyLab & Mastering products deliver customizable content and highly personalized study paths, responsive learning tools, and real-time evaluation and diagnostics. MyLab & Mastering products help move students toward the moment that matters most—the moment of true understanding and learning.