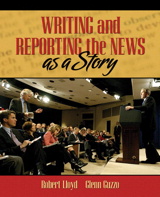 Description
Filled with current examples and tips from Pulitzer Prize winning professionals, Writing and Reporting News As a Story teaches modern news writing skills while providing students with timely advice on ethics and career advancement. As a result of the outstanding professional experience of the author team and their devotion to teaching young journalists, this new text offers practical and real guidance to students truly interested in a future in journalism.
Table of Contents
Authors Note
Chapter 1: Why Journalism Matters
Chapter 2: What is News?
Chapter 3: Writing Leads
Chapter 4: Writing Simply
Chapter 5: How to Structure a News Story
Chapter 6: Interviewing
Chapter 7: Using Quotations Well
Chapter 8: Crime Stories
Chapter 9: Writing about Victims of Crimes
Chapter 10: Covering Disasters
Chapter 11: Speeches, Press Conferences, and Press Releases
Chapter 12: Writing the Meeting Story
Chapter 13: Writing Non-Traditional Leads
Chapter 14: Obituaries
Chapter 15: Writing Profiles
Chapter 16: Features
Chapter 17: Endings
Chapter 18: Writing for the Web
Chapter 19: Ethics
Chapter 20: Diversity
Chapter 21: Libel
Chapter 22: Jobs
Purchase Info ?
With CourseSmart eTextbooks and eResources, you save up to 60% off the price of new print textbooks, and can switch between studying online or offline to suit your needs.
Once you have purchased your eTextbooks and added them to your CourseSmart bookshelf, you can access them anytime, anywhere.
Buy Access
Writing and Reporting the News as a Story, CourseSmart eTextbook
Format: Safari Book
$52.99 | ISBN-13: 978-0-205-64491-9