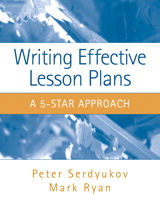 Description
<>
Combining concise theoretical explanations with practical, hands-on activities, Writing Effective Lesson Plans: A 5-Star Approach is a foolproof teacher's guide to designing and developing successful lesson plans.
Developed by two educators with experience in both elementary and secondary classrooms, the 5-Star approach to lesson planning is a step-by-step procedure designed to streamline the detailed process of lesson planning and make teaching performance smoother and more efficient. Coined as the Five-Star Lesson Plan by the authors, this model consists of five classic components: lesson description, goals and objectives, materials and tools, procedures, and reflective assessment and evaluation.
From the basic components of preparation to the intricacies of development, this workbook guides beginning and experienced teachers through each of the five steps for creating a lesson plan that best meets the needs of every student. It also explores the inherent challenges to effective lesson planning, such as time efficiency, knowledge construction, skill development, involving the students' families, and implementing your plan. This text is a one-stop resource that encourages deep and thoughtful learning of a skill that is often not sufficiently developed in teacher preparation programs or in classroom experiences.
Table of Contents
Preface
Chapter 1: Structure and Stages of Development
Coming to terms on defining and designing a plan
So, what is a lesson plan?
Stages of Lesson Plan Development
Preparation
Development
Implementation of Instructional Methodologies
Reflection
Lesson Plans Designs
Structuring a Lesson Plan
A Generic Lesson Plan
Putting all together
What is in the lesson plan?
Sequencing Lesson Components
From Whole to Part
From Part to Whole
Chapter 2: Lesson description
An Overview of the 5-Star Lesson Plan
1. Description
2. Goals and Objectives
3. Materials and Tools
4. Procedure
5. Reflective Assessment and Evaluation
Coming to Terms over Description
Date
Subject
Topic
Grade
Your Turn: Practice Sheets
Chapter 3: Goals and objectives
Overview of Goals and Objectives
Coming to Terms over Goals and Objectives
Prior Knowledge
Goals
Objectives
TANGIBLE Objectives
Targets
Acculturates
Negotiates
Guides
Integrates
Builds
Limits
Engages
Standards
Basic Vocabulary
Your Turn: Practice Sheets
Chapter 4: Materials and tools
Overview of Materials and Tools
Coming to Terms over Materials and Tools
Educational Technology Applications in the Lesson
Word processor
Video
Email
Web browser
Audio
Projection
Handouts, Realia, and Manipulatives
Designing an Elementary Classroom
Designing a Secondary Classroom
Your Turn: Practice Sheets
Chapter 5: Procedure
Overview of Procedure
Coming to Terms over Procedure
Types of procedures
New Material Module and Its Implementation
Homework Checking Module and Its Implementation
Coming to Terms over Strategies and Activities
Activities
Introduction Activities
New Material Presentation
Student Activities
Various Strategies
Reading
Information Search
Observation
Construction
Writing
Drawing
Listening
Solving Life's Problems
Calculating
Closure
Activities and Practice
Fieldwork
Homework/Extension and Community-based Activities
An Iterative Instructional Model
Final Thoughts and Terms
To Sum Up
Your Turn: Practice Sheets
Chapter 6: Reflective Assessment and Evaluation
Overview of Reflective Assessment and Evaluation
Coming to Terms over Assessment and Evaluation
Grading
Student-Teacher-Parent Conference
Learning Assessment and Revision
Testing
Authentic Assessment and Evaluation and Metacognition
Your Turn: Practice Sheets
Chapter 7: Time Efficiency in Teaching and Learning
Coming to Terms over Time
Research of the Effects of Time
Timing Lesson Activities
Coming to Terms over Time Management and Lesson Variables
Time for Self-Directed Learning
Time Logs
Teaching Time
Time in an Asynchronous Environment
Chapter 8: Knowledge Construction and Skill Development
Coming to Terms over Organizing, Structuring and Modeling in Education
Organizing, Structuring and Modeling in Education
Other Approaches to Lesson Planning
Chapter 9: Course and Lesson: Strategic and Tactical Planning
Coming to terms over a lesson position in the course
An Algorithm of a Lesson Plan
Chapter 10: Implementing the Plan
Appreciating Students' Diversity
State Standards and District Benchmarks
The Principle of Balance in a Lesson Plan
Lesson Execution
Affective Component
Lesson Assessment and Revision
Teacher's Lesson Collection
Your Turn — Practice Sheets
Chapter 11: Extending the Lesson Plan to Home
The First and Most Important Teachers
Academics in Action
An Approach to Homework
Chapter 12: Teacher professional competence
Coming to Terms over Professional Competence
Five Fundamental Competencies
Methodological Concerns
Appendices
A: Lesson Plan Development Guidelines for Students' Course Project
B: Lesson Plan Development Assignments for Teacher Candidates
C: Practice: Analyzing Lesson Plans
D: Sample Lesson Plans
E: 5-Star Lesson Plan Worksheet
Glossary
Suggested Readings
Index
Purchase Info ?
With CourseSmart eTextbooks and eResources, you save up to 60% off the price of new print textbooks, and can switch between studying online or offline to suit your needs.
Once you have purchased your eTextbooks and added them to your CourseSmart bookshelf, you can access them anytime, anywhere.
Buy Access
Writing Effective Lesson Plans: The 5-Star Approach, CourseSmart eTextbook
Format: Safari Book
$29.99 | ISBN-13: 978-0-205-61522-3