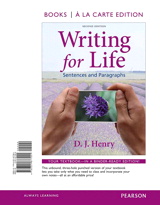 Description
The revolutionary approach of D.J. Henry's Writing for Life offers a visually rich, high-interest, and down-to-earth approach that reinforces the writing process while showing students how to take responsibility for their learning.
Table of Contents
Part 1: Getting Ready to Write
1. Preparing to Learn about Writing
2. Thinking through the Writing Process
Part 2: Writing Paragraphs
3. Understanding the Paragraph
4. Using the Patterns of Organization to Develop Your Paragraphs
Part 3: The Basic Sentence
5.Nouns and Pronouns
6. Adjectives and Adverbs
7. Verbs
8. Subjects, Verbs, and Simple Sentences
9. Compound and Complex Sentences
Part 4: Recognizing and Avoiding Errors
10. Run Ons
11. Fragments
12. Misplaced and Dangling Modifiers
13. Subject-Verb Agreement
Part 5: Punctuation and Mechanics
14. The Comma
15. The Apostrophe
16. Question Marks
17. End Punctuation
18. Capitalization
19. Improving Your Spelling
20. Mastering Often-Confused Words
Part 6: Writing Clearly
21. Sentence Variety
22. Sentence Clarity
23. Dialects and Standard English
24. Revising for Effective Expression
Part 7: Reading Selections
Appendixes
Understanding the Essay
The Writing Portfolio
This title is also sold in the various packages listed below. Before purchasing one of these packages, speak with your professor about which one will help you be successful in your course.
Package ISBN-13: 9780321981219
Includes this title packaged with:
MyWritingLab Generic without Pearson eText -- Valuepack Access Card
. . Pearson Education
$106.67 | Add to Cart