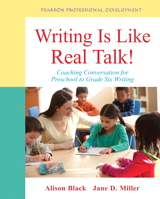 Description
Teachers get valuable help for improving students' writing through research-based authentic writing samples and positive coaching conversations.
A guide, an incentive, and a model, this resource uses real classroom writing and pedagogical elements that provide specific context, research connections, teacher talk, and, most importantly, students' writing examples, to help teachers teach writing. This book provides a structure for pre-service and practicing preschool through grade six teachers to use to reflect on how they teach writing—and to use what they learn from students' writing to inform their instruction.
Here readers get a firm foundation of theory and research to promote the teaching of writing and the use of coaching conversations, plus a look at seven pedagogical elements—Context, Research Corner, Writing Sample, Coaching Conversation, Assessment, Teacher Comments, and Questions for Consideration—that help to structure the remainder of the text. The chapters are organized by grade level and model a variety of writing genres and content areas. Each chapter includes authentic writing samples and coaching conversations specific to students' needs. Using these classroom-based scenarios, instructors can enhance the development of teacher talk that acknowledges students as writers, facilitates students' meaning making, and enables students to move toward writer consciousness.
Table of Contents
Table of Contents
Preface . . . . . . . . . . . . . . . . . . . . . . . . . . . . . . . . . . . . . . . . . . . . . . . . . . . . . . . . . i
Acknowledgements . . . . . . . . . . . . . . . . . . . . . . . . . . . . . . . . . . . . . . . . . . . . . . vi
Section 1: Developing Strategic Writers
Chapter 1 An Overview of Children's Writing Development . . . . . . . . . . . . . . 1
Chapter 2 Coaching Conversation: Guiding Writing Through Strategic. . . . . . 25
Questioning
Section 2: Children's Writing – Preschool Through Sixth Grade
Chapter 3 Coaching and its Conversations: The Seven Pedagogical Elements. 35
Chapter 4 Writing My Name – A Two-and-a-Half Year Old . . . . . . . . . . . . . . 39
Chapter 5 A Grocery List – A Three Year Old . . . . . . . . . . . . . . . . . . . . . . . . . 43
Chapter 6 Holiday Gift List – A Four-and-a-Half Year Old . . . . . . . . . . . . . . . 48
Chapter 7 Picture Response with Name – Young Kindergarten . . . . . . . . . . . . 55
Chapter 8 Visualization Response – Kindergarten . . . . . . . . . . . . . . . . . . . . . . 65
Chapter 9 Response to a Thanksgiving Story – Pre-first. . . . . . . . . . . . . . . . . . 73
Chapter 10 Word Study and the Journal Prompt – First Grade . . . . . . . . . . . . . 79
Chapter 11 Retelling of a Fable – First Grade . . . . . . . . . . . . . . . . . . . . . . . . . . 95
Chapter 12 Persuasive Writing: Taking a Vacation – Second Grade . . . . . . . . . 103
Chapter 13 Acrostic Poem – Second Grade . . . . . . . . . . . . . . . . . . . . . . . . . . . . 111
Chapter 14 Book Response – Second Grade. . . . . . . . . . . . . . . . . . . . . . . . . . . . 118
Chapter 15 How Do Planes Work? – Second/Third Grade. . . . . . . . . . . . . . . . . 123
Chapter 16 Lead Sentences – Third Grade . . . . . . . . . . . . . . . . . . . . . . . . . . . . . 131
Chapter 17 Book Reviews –Third Grade . . . . . . . . . . . . . . . . . . . . . . . . . . . . . . 137
Chapter 18 Social Justice Project – Third Grade . . . . . . . . . . . . . . . . . . . . . . . . 145
Chapter 19 Erie Canal Newspaper Column - Fourth Grade. . . . . . . . . . . . . . . . 154
Chapter 20 Persuasive Writing: Dogs vs. Cats – Fourth Grade. . . . . . . . . . . . . 160
Chapter 21 Personal Opinion Essay – Fourth Grade . . . . . . . . . . . . . . . . . . . . . 169
Chapter 22 Letter from a Puritan Child – Fifth Grade . . . . . . . . . . . . . . . . . . . . 178
Chapter 23 Graphing the Ways to Eat Oreos – Fifth Grade. . . . . . . . . . . . . . . . 187
Chapter 24 Science Log: Nature's Palette – Fifth Grade. . . . . . . . . . . . . . . . . . 195
Chapter 25 Poet or Jazz Musician Biography Essay – Sixth Grade. . . . . . . . . . 203
Chapter 26 Diary Response to a Virtual Field Trip – Sixth Grade. . . . . . . . . . . 212
Chapter 27 Science Clerihew Poem – Sixth Grade . . . . . . . . . . . . . . . . . . . . . . 222
Chapter 28 Math Journal: Teacher to Teacher Coaching – Sixth Grade . . . . . . 230
Appendix . . . . . . . . . . . . . . . . . . . . . . . . . . . . . . . . . . . . . . . . . . . . . . . . . . . . . 237