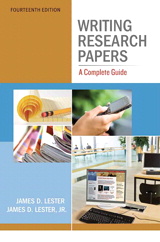 Description
This market-leading text provides readers with step-by-step guidance through the research writing process, from selecting and narrowing a topic to formatting the finished document. Writing Research Papers backs up its instruction with the most complete array of samples of any writing guide of this nature. The text continues its extremely thorough and accurate coverage of citation styles for a wide variety of disciplines. The fourteenth edition maintains Lester's successful approach while bringing new writing and documentation updates to assist the student researcher in keeping pace with electronic sources.
Available in two formats–perfect-bound and spiral-bound with tabs, a handier format at a slightly higher price)–Lester's text is one that readers will keep throughout their college careers.
Table of Contents
Preface
Chapter 1 Writing from Research
1a Why Do Research?
1b Learning The Conventions of Academic Writing
1c Understanding and Avoiding Plagiarism
1d Understanding a Research Assignment
Understanding the Terminology
1e Establishing a Schedule
Chapter 2 Finding a Topic
2a Relating Your Personal Ideas to a Scholarly Problem
Connecting Personal Experience to Scholarly Topics
Speculating about Your Subject to Discover Ideas and to Focus on the Issues
2b Talking with Others to Find and Refine the Topic
Personal Interviews
Online Discussion Groups
2c Using Online Searches to Refine Your Topic
Using an Online Subject Directory
Using an Internet Keyword Search
2d Using the Library's Electronic Databases to Find and Narrow a Subject
2e Using the Library's Electronic Book Catalog to Find a Topic
2f Developing a Thesis Statement, Enthymeme, or Hypothesis
2g Drafting a Research Proposal
The Short Proposal
The Long Proposal
Your Research Project
Chapter 3 Organizing Ideas and Setting Goals
3a Using a Basic Order to Chart the Course of Your Work
3b Using Your Research Proposal to Direct Your Notetaking
3c Listing Key Terms and Phrases to Set Directions for Notetaking
3d Writing a Rough Outline
3e Using Questions to Identify Issues
3f Setting Goals by Using Organizational Patterns
3g Using Approaches across the Curriculum to Chart Your Ideas
3h Using Your Thesis to Chart the Direction of Your Research
Your Research Project
Chapter 4 Gathering Sources Online
4a Beginning an Online Search
CHECKLIST: Evaluating Internet Sources
4b Reading an Online Address
4c Using a Search Engine
Subject Directory Search Engines
Robot-Driven Search Engines
Metasearch Engines
Specialized Search Engines
Educational Search Engines
Educational Search Engines Maintained by Libraries
4d Searching for Articles in Journals and Magazines
Online Journals
Online Magazines
4e Searching for Articles in Newspapers and Media Sources
4f Searching for Photographs and Other Visual Sources
4g Accessing E-Books
4h Using Listserv, Usenet, and Chat Groups
4i Examining Library Holdings via Online Access
4j Finding an Internet Bibliography
4k Conducting Archival Research on the Internet
Your Research Project
Chapter 5 Gathering Data in the Library
5a Launching the Search
5b Developing a Working Bibliography
5c Finding Books on Your Topic
Using Your Library's Electronic Book Catalog
Using the Library's Printed Bibliographies
5d Finding Articles in Magazines and Journals
Searching the General Indexes to Periodicals
Finding Indexes by Topic in Appendix B
Using the H. W. Wilson Indexes
Readers' Guide to Periodical Literature
Social Sciences Index
Humanities Index
Searching for an Index to Abstracts
Searching for Abstracts of Dissertations
5e Searching for a Biography
5f Searching for Articles in the Newspaper Indexes
5g Searching the Indexes to P
Purchase Info
ISBN-10: 0-205-05933-3
ISBN-13: 978-0-205-05933-1
Format: Alternate Binding
Digital Choices ?
MyLab & Mastering with Pearson eText is a complete digital substitute for a print value pack at a lower price.
eTextbook ?
With CourseSmart eTextbooks and eResources, you save up to 60% off the price of new print textbooks, and can switch between studying online or offline to suit your needs.
Once you have purchased your eTextbooks and added them to your CourseSmart bookshelf, you can access them anytime, anywhere.