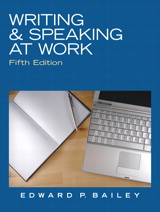 Description
For undergraduate and graduate courses in Business Communication.
Concise but thorough, this popular business communication text is packed with practical advice to help students improve their writing and speaking skills.
Shorter than most other business communications texts, Writing & Speaking at Work draws from the author's years of experience as a college instructor and consultant in business and government. It delivers practical insight and instruction that will equip students with the tools to be effective communicators no matter where their careers may take them. Instead of detailing the various communications theories, it focuses on the two critical communication needs of business people: writing and speaking.
Table of Contents
Part I: Writing
Chapter 1: What is Good Writing?
Chapter 2: Developing a Good Style
Chapter 3: Using Examples and Comparisons
Chapter 4: Making Your Page Look Inviting
Chapter 5: Making Your Main Point Easy to Find
Chapter 6: Preparing Executive Summaries
Chapter 7: Illustrating Your Ideas
Chapter 8: Getting Beyond Periods and Commas
Chapter 9: Learning Common Sense Rules
Chapter 10: Making the Most of Email
Chapter 11: Writing for the Web
Chapter 12: Preparing a Résumé and Cover Letter
Chapter 13: Documenting Your Sources

Part II: Speaking
Chapter 14: What is Business Speaking?
Chapter 15: Using Good Techniques of Delivery
Chapter 16: Developing a Clear Structure
Chapter 17: Designing Visual Aids
Chapter 18: Giving a Presentation Using a Computer
Chapter 19: Rehearsing, Setting Up the Room, and Overcoming Nervousness
Chapter 20: Preparing an Annotated Presentation
Appendix A: Final Project: Learning Computer Techniques
Appendix B: Final Project: Creating Reports
Appendix C: Commonly Confused Words


Purchase Info ?
With CourseSmart eTextbooks and eResources, you save up to 60% off the price of new print textbooks, and can switch between studying online or offline to suit your needs.
Once you have purchased your eTextbooks and added them to your CourseSmart bookshelf, you can access them anytime, anywhere.
Buy Access
Writing & Speaking at Work, CourseSmart eTextbook, 5th Edition
Format: Safari Book
$56.99 | ISBN-13: 978-0-13-608856-1