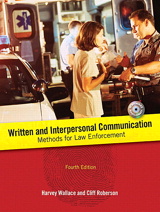 Description
For freshman/sophomore-level courses in communication and report writing for law enforcement, and special topics in policing.
This guide to communications in law enforcement and corrections helps students master the skills of both oral and written communication. Throughout the book, it addresses the grammar and the mechanics of writing and offers a complete treatment of verbal skills. Each chapter includes rules for improvement and writing exercises to develop one's spelling, vocabulary and overall writing abilities. This edition features a new chapter on communicating with victims of crime, new sections on special communication issues and a student CD-ROM that contains actual search warrants, police reports and documents from police cases.
Table of Contents
Chapter 1 The Need for Effective Communication
Chapter 2 Oral versus Written Communication
Chapter 3 The Communication Process
Chapter 4 Improvement of Communication
Chapter 5 Special Communications Issues
Chapter 6 Communicating in Public
Chapter 7 Basic Reports
Chapter 8 Drafting Affidavits and The Use of Reports in Court
Chapter 9 Questioning
Chapter 11 Interviewing as an Art
Chapter 12 Hostage Negotiations
Chapter 13 Law Enforcement Records
Purchase Info ?
With CourseSmart eTextbooks and eResources, you save up to 60% off the price of new print textbooks, and can switch between studying online or offline to suit your needs.
Once you have purchased your eTextbooks and added them to your CourseSmart bookshelf, you can access them anytime, anywhere.
Buy Access
Written and Interpersonal Communication, CourseSmart eTextbook, 4th Edition
Format: Safari Book
$41.99 | ISBN-13: 978-0-13-208293-8