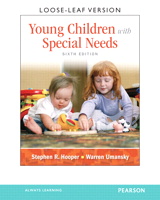 Description
For courses in Early Childhood Special Education and Early Childhood Intervention.
The definitive resource for early interventionists for over thirty years!
Young Children with Special Needs is the field's classic book on early childhood special education. Taking a unique perspective, it offers readers a solid foundation in child development and addresses how children with special needs develop differently. Rich with expertise, this edited work features contributions from leading educators within each developmental domain. Chapters explore assessment and early intervention, and the role diversity and technology play in both. New to this edition are two leading authors, an increased emphasis on family partnerships, and a separate chapter dedicated to fine-motor and oral-motor development.
Table of Contents
PART I: FOUNDATIONS
1. Introduction to Young Children with Special Needs
2. Typical Development and Factors Affecting Development
3. Partnerships with Families
PART II: DEVELOPMENTAL DOMAINS
4. Gross Motor Development
5. Fine-Motor and Oral Motor Development
6. Self-Care Development and Adaptive Behavior
7. Cognitive Development
8. Communication Development
9. Social and Emotional Development
PART III: PRINCIPLES OF ASSESSMENT AND INTERVENTION
10. Assessment of Young Children
11. Intervention
Purchase Info ?
With CourseSmart eTextbooks and eResources, you save up to 60% off the price of new print textbooks, and can switch between studying online or offline to suit your needs.
Once you have purchased your eTextbooks and added them to your CourseSmart bookshelf, you can access them anytime, anywhere.
Buy Access
Young Children with Special Needs, CourseSmart eTextbook, 6th Edition
Format: Safari Book
$60.99 | ISBN-13: 978-0-13-268468-2