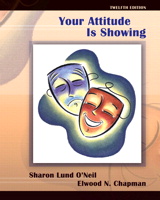 Description
For courses in Human Relations, Supervisory Practices, principles of management, Communications, and Career and Self-Explorations.
We have often heard attitude is everything. For more than three decades, readers have relied on Your Attitude is Showing to help improve their own attitude and enhance their interpersonal relationships. Because it is one of the most highly regarded primers in the field of business human relations, it has been printed in four languages and distributed to over one million people. It is filled with advice, cases, and experiential activities and is flexible in format and design. Continuing the tradition, this edition includes enhanced cases, new writing exercises and end-of-chapter summary activities all designed to train readers how to think in more positive and more productive ways.
Table of Contents
PART I: UNDERSTANDING YOURSELF
1. You Can't Escape Human Relations
Case 1: Reality
2. Human Relations Can Make or Break You
Case 2: Adjustment
3. Hold On to Your Positive Attitude
Case 3: Credit Blues
4. When People Step on Your Attitude
Case 4: Bounce Back
PART II: RELATIONSHIPS WITH OTHERS
5. Vertical and Horizontal Working Relationships
Case 5: Decision
6. Your Potential and Productivity–A Closer Look
Case 6: Message
7. The Winning Combination
Case 7: Insight
8. Your Most Important Working Relationship
Case 8: Choice
9. Understanding the Nature of Relationships
Case 9: Currency
PART III: MAXIMIZING YOUR RELATIONSHIPS
10. Your Success as a Team Player
Case 10: Controversy
11. Emotional Intelligence: Managing Stress, Frustration, and Aggression
Case 11: Frustration
12. Restoring Injured Relationships
Case 12: Restoration
13. Attitudes Among Culturally Diverse Co-Workers
Case 13: Communication
PART IV: Building Your Career
14. Succeeding in a New Job or Assignment
Case 14: Nonprofessional
15. Initiation Rites–Coping with Teasing and Testing
Case 15: Confrontation
16. Absenteeism and Human Relations
Case 16: Balance
17. Avoiding Six Common Human-Relations Mistakes
Case 17: Motivation
18. Business Ethics, Rumors, and the Confidence Triangle
Case 18: Dilemma
PART V: SUCCESS AT EXPANDING YOUR ASSETS
19. Goal Setting and Your Attitude
Case 19: Conflict
20. Strategies for Advancing Your Career
Case 20: Preference
21. Keeping a Positive Attitude Through Plateau Periods and Reorganizations
Case 21: Change
22. When You Are Tempted to Scramble
Case 22: Interview
23. Attitude Renewal
Case 23: Focus
24. Leadership/Management: Your Career on the Move
Case 24: Sensitivity
Purchase Info ?
With CourseSmart eTextbooks and eResources, you save up to 60% off the price of new print textbooks, and can switch between studying online or offline to suit your needs.
Once you have purchased your eTextbooks and added them to your CourseSmart bookshelf, you can access them anytime, anywhere.
Buy Access
Your Attitude is Showing, CourseSmart eTextbook, 12th Edition
Format: Safari Book
$45.99 | ISBN-13: 978-0-13-501871-2