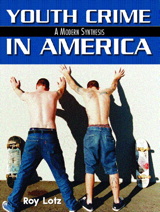 Description
For use as a core text for undergraduate Juvenile Delinquency courses in departments of Criminology and Sociology.
This new text introduces students to the latest developments in delinquency theory and research by providing a clear, jargon-free, in-depth treatment of the most recent and significant writings in the field. It provides wide coverage of youth crime, delinquency, and the justice system without overwhelming students with dual and often confusing statements.
Table of Contents


1. Making Youth Crime Into a Social Issue.


2. Official Data, Self Reports, and Victim Surveys.


3. American Adolescence Today.


4. Individualistic Theories of Youth Crime.


5. Chicago School and Strain/Anomie Theories.


6. Social Control, Routine Activities, and Sensation Seeking.


7. The Family and Youth Crime.


8. Schools and Youth Crime.


9. Peers and Youth Crime.


10. The Police and Youth Crime.


11. Youth and the Juvenile Court.


12. Corrections and Prevention.

Purchase Info ?
With CourseSmart eTextbooks and eResources, you save up to 60% off the price of new print textbooks, and can switch between studying online or offline to suit your needs.
Once you have purchased your eTextbooks and added them to your CourseSmart bookshelf, you can access them anytime, anywhere.
Buy Access
Youth Crime in America: A Modern Synthesis, CourseSmart eTextbook
Format: Safari Book
$53.99 | ISBN-13: 978-0-13-128903-1