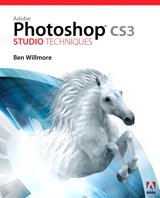 Description
Adobe Photoshop CS3 Studio Techniques has been completely updated to cover the new features in CS3. In a friendly, easy-going style that's long on information and short on techno-babble, Photoshop Hall-of-Famer Ben Willmore guides you through the concepts, features that will truly make a difference in how you use Photoshop every day. He takes you from blindly following step-by-step instructions to an in-depth understanding of how Photoshop works, cutting through the fat to focus on what he considers to be Photoshop's essential features. This full-color book delivers the content in three easily digestible sections: Working Foundations, Production Essentials, and Creative Explorations, and includes a companion CD with bonus chapters and practice images so you can quickly and easily apply the techniques covered throughout. Beginning with the working foundations of Photoshop--the basic tools, palettes, layers, and masks, you'll quickly move on to real-world production techniques, such as how to sharpen scans, correct and optimize images, and use the powerful Curves and Channels features to your advantage. Finally, you'll get to fully explore Photoshop's creative potential by blending and enhancing images, creating collages, retouching photographs, colorizing, and working with filters and layer masks. By the time you finish this book, your creativity and efficiency levels should soar and you'll start to feel like you finally "get" Photoshop.
Table of Contents
Part I: Working Foundations
Chapter 1-Tool & Palette Primer
Chapter 2-Selection Primer
Chapter 3-Layers Primer

Part II: Production Essentials
Chapter 4-Camera Raw
Chapter 5-Color Correction
Chapter 6-Adjusting Tonality
Chapter 7-Adjusting Color
Chapter 8-Adjustment Layers
Chapter 9-Sharpening

Part III: Creative Explorations
Chapter 10-Enhancement
Chapter 11-Advanced Masking
Chapter 12-Collage
Chapter 13-Retouching

Bonus Chapters to the CD:
CH04-Resolution Solutions
CH05-Grayscale
CH04-Color Management
CH17-Workflow


Purchase Info
ISBN-10: 0-321-54997-X
ISBN-13: 978-0-321-54997-6
Format: Safari PTG
This publication is not currently for sale.