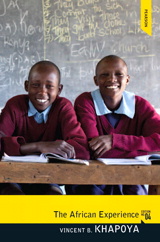 Description
The African Experience is the only interdisciplinary survey to examine this region of the world from geographic, linguistic, social, historical, and political perspectives.
Drawing on research from all of the social sciences, this text captures Africa in its complex totality. The African Experience helps students develop a comprehensive and critical understanding of Africa, one that allows them to grasp the region's internal dynamics and its evolving place in the world.
Table of Contents
Chapter 1. The Continent and Its People
Chapter 2. African Traditional Institutions
Chapter 3. Political Development in Historic Africa
Chapter 4. Colonialism and the African Experience
Chapter 5. African Nationalism and the Struggle for Freedom
Chapter 6. African Independence: The First Thirty Years
Chapter 7. The African Struggle for Democracy and Free Markets
Chapter 8. Africa in World Affairs
Purchase Info ?
With CourseSmart eTextbooks and eResources, you save up to 60% off the price of new print textbooks, and can switch between studying online or offline to suit your needs.
Once you have purchased your eTextbooks and added them to your CourseSmart bookshelf, you can access them anytime, anywhere.
Buy Access
The African Experience, CourseSmart eTextbook, 4th Edition
Format: Safari Book
$37.99 | ISBN-13: 978-0-205-85172-0