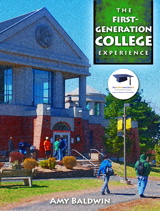 Description
The First Generation Experience is the only college success book written specifically to serve first generation students. It is for students who need a little extra attention and support to have a firm footing in the academic world.
It is about helping those students who have felt disenfranchised, disengaged, and disappointed by the educational system to empower themselves with the knowledge and the skills necessary to imagine and realize and new future. It is also a book about change, specifically transformation. The word itself has multiple meanings in different academic disciplines, but the idea of transformation most closely applies to the intentional process by which we help students change as individuals, as scholars, and as citizens of their communities.
Table of Contents
Preface to First Success
Introduction to Faculty
Introduction to Students
Finances First
Part I: Moving In
Chapter 1: You First
Chapter 2: Your College
Chapter 3: Relationships
Chapter 4: Time and Energy
Part II: Moving Through
Chapter 5: Learning, Thinking, and Memory
Chapter 6: Reading
Chapter 7: Listening and Note-taking
Chapter 8: Writing, Researching, and Presenting
Chapter 9: Studying and Tests
Part III: Moving On
Chapter 10: Stress and Health
Chapter 11: Next Semester
Chapter 12: A Career and a Life
Appendix A: VARK Inventory
Glossary
Index
This title is also sold in the various packages listed below. Before purchasing one of these packages, speak with your professor about which one will help you be successful in your course.