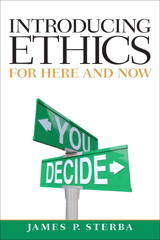 Description
Students learn how traditional ethical theories can be applied to practical problems.
Introducing Ethics is a brief text that encourages students to determine how the common wisdom of traditional ethical theories can be applied to practical problems such as the distribution of income and wealth, torture, terrorism, and gay and lesbian rights.
The text begins by challenging students to think about whether or not ethics is useful for making choices. It poses three questions: 1) Is morality determined by religion rather than reason? 2) Is everything relative? 3) Is it better to be an egoist?
Then, after laying out Utilitarian ethics, Kantian ethics, and Aristotelian ethics, the author poses an additional three challenges focused on the traditional conceptions of ethics: the environmental challenge, the feminist challenge, and the multicultural challenge.
Learning Goals
Upon completing this book readers will be able to:
Answer the question: Do I make ethical or moral choices well?

Determine their own responses to ethical challenges
Note: MySearchLab does not come automatically packaged with this text. To purchase MySearchLab, please visit: www.mysearchlab.com or you can purchase a ValuePack of the text + MySearchLab (at no additional cost): ValuePack ISBN-10: 0205903843 / ValuePack ISBN-13: 9780205903849.
Table of Contents
Preface
Introduction
Chapter 1 Religion and Morality
Chapter 2 The Challenge of Moral Relativism
Chapter 3 The Challenge of Egoism
Chapter 4 The Utilitarian Ethics
Chapter 5 The Kantian Ethics
Chapter 6 The Aristotelian Ethics
Taking-Stock Interlude
Chapter 7 The Environmental Challenge
Chapter 8 The Feminist Challenge
Chapter 9 The Multicultural Challenge
Conclusion
This title is also sold in the various packages listed below. Before purchasing one of these packages, speak with your professor about which one will help you be successful in your course.
Package ISBN-13: 9780205946365
Includes this title packaged with:
Asking the Right Questions: A Guide to Critical Thinking, 10th Edition
M. Neil Browne, Stuart M. Keeley
MySearchLab with Pearson eText -- Valuepack Access Card
Mike M Pearson Education
$107.87 | Add to Cart
Purchase Info
Digital Choices
MyLab & Mastering ?
MyLab & Mastering products deliver customizable content and highly personalized study paths, responsive learning tools, and real-time evaluation and diagnostics. MyLab & Mastering products help move students toward the moment that matters most—the moment of true understanding and learning.
eTextbook ?
With CourseSmart eTextbooks and eResources, you save up to 60% off the price of new print textbooks, and can switch between studying online or offline to suit your needs.
Once you have purchased your eTextbooks and added them to your CourseSmart bookshelf, you can access them anytime, anywhere.