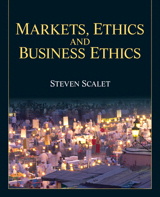 Description
A deeper understanding of markets, corporations, and the business system.
An exciting first edition, Markets, Ethics, and Business Ethics provides introductory discussion of basic but challenging concepts necessary for a study of business ethics: markets, property rights, law, ethics, and the corporation. The text maintains an appropriate balance between philosophical arguments and specific business applications. Author Steve Scalet analyzes a central philosophical concept in each chapter, and then applies this material to specific topics in business ethics.
Markets, Ethics, and Business Ethics presents a balance between analyzing institutions as well as the individual responsibilities of people within those institutions. In light of the economic and financial crises of the last several years, this text is responsive to the rules and actions of a business system.
Seamless integration of on-line resources within narrative text. On-line materials include case studies, legal applications, multi-media, philosophical readings, and current news and events. The text presents philosophical discussion with direct application, and the on-line materials offer many expanded options for engaging additional business and economic applications
This text is available in a variety of formats — print and digital. Check your favorite digital provider for your etext, including Coursesmart, Kindle, Nook, and more. To learn more about our programs, pricing options and customization, click the Choices tab.
Learning Goals
Upon completing this book, readers should be able to:
Assess arguments that respond to each other by either criticizing what has gone before or by developing themes in alternative ways.Recog

Debate any given topic by considering the structure of the best competing arguments for any given position

Critically assess leading controversies in business ethics
Table of Contents
BREIF TABLE OF CONTENTS
Introduction: The Approach of the Book, Chapter Previews, A Primer on Ethics
I. Basic Concepts
Chapter 1. Markets
Chapter 2. The Nature of Property
Chapter 3. Property Rights, Markets, and Law
II. Corporate Responsibility
Chapter 4. The Stockholder Theory of Corporate Responsibility
Chapter 5. The Stakeholder Theory of Corporate Responsibility
III. Efficiency and Welfare: The Most Common Ethical Guides in Business and Economics
Chapter 6. Efficiency and Well-being
Chapter 7. Public Goods and the Utilitarian Tradition
Chapter 8. The Invisible Hand: Balancing Ethics, Incentives, and Institutions
IV. Ethics Beyond Efficiency
Chapter 9. Freedom
Chapter 10. Rights
Chapter 11. Equality
Chapter 12. What People Deserve
Chapter 13. Relationships and Character
Chapter 14. Community and the Common Good
Purchase Info ?
With CourseSmart eTextbooks and eResources, you save up to 60% off the price of new print textbooks, and can switch between studying online or offline to suit your needs.
Once you have purchased your eTextbooks and added them to your CourseSmart bookshelf, you can access them anytime, anywhere.
Buy Access
Markets, Ethics, and Business Ethics, CourseSmart eTextbook
Format: Safari Book
$27.99 | ISBN-13: 978-0-205-83230-9