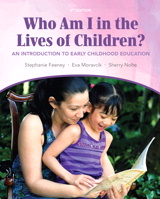 Description
Who Am I in the Lives of Children is a warm and comprehensive introduction to early childhood education that is dedicated to helping you promote the development of the whole child—physical, social, emotional, and intellectual. Its practical orientation, personal voice, appealing photographs, and numerous stories and examples set it apart. Because of its emphasis on respecting and honoring the individual child and showing you how your values and ethics impact your work with children, it has become one of most well-respected books in the field.
You will be encouraged to begin with children as they are and focus on getting to know each individual's strengths, interests, challenges, and circumstances. This will enable you to support each child in growing and learning in ways that are in harmony with who they are, rather than according to a predetermined plan.
Table of Contents
Chapter 1: The Teacher of Young Children
Chapter 2: The Field of Early Childhood Education
Chapter 3: History of Early Childhood Education
Chapter 4: Child Development
Chapter 5: Observation, Assessment and Documentation
Chapter 6: Relationships and Guidance
Chapter 7: Health, Safety and Well-being
Chapter 8: The Learning Environment
Chapter 9: Understanding and Supporting Play
Chapter 10: The Curriculum
Chapter 11: Curriculum Planning
Chapter 12: Including All Children
Chapter 13: Partnership with Families
Chapter 14:
Becoming a Professional
Purchase Info
ISBN-10: 0-13-265704-X
ISBN-13: 978-0-13-265704-4
Format: Alternate Binding
Digital Choices ?
MyLab & Mastering with Pearson eText is a complete digital substitute for a print value pack at a lower price.
eTextbook ?
With CourseSmart eTextbooks and eResources, you save up to 60% off the price of new print textbooks, and can switch between studying online or offline to suit your needs.
Once you have purchased your eTextbooks and added them to your CourseSmart bookshelf, you can access them anytime, anywhere.